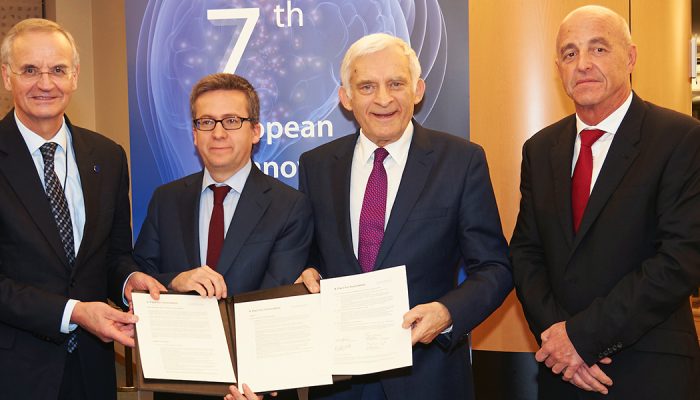 The Pact for Innovation was signed by the K4I Forum leadership and handed over to Research and Innovation Commissioner Carlos Moedas during the Opening Ceremony of the 7th European Innovation Summit. Commissioners Katainen and Moedas as well as the President of the Committee of the Regions, Markku Markkula, welcomed the Pact initiative during their speeches.
In the light of new Commission priorities, a new framework programme for research and innovation and emerging technology ecosystems such as artificial intelligence and blockchain, five new themes of the P4I working groups have been suggested.
A continuous conversation among the actors of European Partnerships will result in many benefits that no individual partnership can achieve on its own.
The working groups (under the K4I Pact4Innovation) are an opportunity for the members of K4I and the other actors of the innovation community to exchange knowledge across the Missions, European Partnership areas and individual Partnerships and follow the implementation of Horizon Europe on a programme level particularly the impact it has on delivering the set policy goals over the coming seven years (2021 – 2027).
K4I Forum political members and other interested Members of the European Parliament are invited to co-chair the meetings of the working groups. Representatives from the Member States and the Commission are invited to attend the meetings.
The working groups will be kicked off at the side-lines of the AI & Big Data Innovation Summit during a breakfast meeting on 5 December. A first meeting of the working groups is planned in January and an initial set of recommendations will be presented and further discussed with a broader audience at the 11th European Innovation Summit during the 1st week of February 2020.
Working Group Meetings 2019 | 2020
 Kickoff meeting launching Horizon Europe cross partnership working groups
5 December 2019 | 08:00 – 09:30 | European Parliament, Brussels
 First Working group meetings
21 January 2020 | 08:00 – 10:00 | European Parliament, Brussels
A press briefing on the Horizon Europe budget and a broad discussion on the initial working group themes 'Digital Transformation', 'Greening' and 'Innovation – from lab to market' at the 11th European Innovation Summit, 3 – 6 February 2020, EP, Brussels