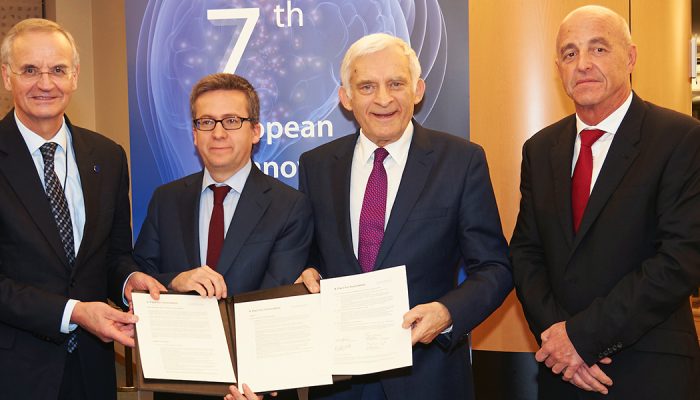 The Pact for Innovation was signed by the K4I Forum leadership and handed over to Research and Innovation Commissioner Carlos Moedas during the Opening Ceremony of the 7th European Innovation Summit. Commissioners Katainen and Moedas as well as the President of the Committee of the Regions, Markku Markkula, welcomed the Pact initiative during their speeches.
In the light of new Commission priorities, a new framework programme for research and innovation and emerging technology ecosystems such as artificial intelligence and blockchain, five new themes of the P4I working groups have been suggested.
A continuous conversation among the actors of European Partnerships will result in many benefits that no individual partnership can achieve on its own.
The working groups (under the K4I Pact4Innovation) are an opportunity for the members of K4I and the other actors of the innovation community to exchange knowledge across the Missions, European Partnership areas and individual Partnerships and follow the implementation of Horizon Europe on a programme level particularly the impact it has on delivering the set policy goals over the coming seven years (2021 – 2027).
K4I Forum political members and other interested Members of the European Parliament are invited to co-chair the meetings of the working groups. Representatives from the Member States and the Commission are invited to attend the meetings.
The working groups will be kicked off at the side-lines of the AI & Big Data Innovation Summit during a breakfast meeting on 5 December. A first meeting of the working groups is planned in January and an initial set of recommendations will be presented and further discussed with a broader audience at the 11th European Innovation Summit during the 1st week of February 2020.
Following several discussions and a consultation among members of K4I, five initial themes have been proposed:
Digital transformation
Digital Transformation touches upon every aspect of our lives: the way we work, think, produce, socialise, research, provide services and so on. The transformation is essential for Europe to maintain its competitiveness and its position in the world. In some domains Europe leads, in many it lags behind.
For several years, the Digital Transformation has been high on the political and policy agenda, and its critical importance has been recognised. However, we are still just at the beginning, and many steps have to be made. It puts further pressure on technology, access to technology, investment, organisational change, skills, regulation, and not in the least awareness, which is unevenly spread amongst organisations, geographies, sectors and stakeholders.
The purpose of this working group is to find and prioritise key themes or issues from the stakeholder perspective, especially those that are cross cutting and where policy can make the biggest difference. The second step is to formulate recommendations within these priorities to the European Parliament and the European Commission. These recommendations should be actionable and not merely a wish list.
As the topic of DT Is exceptionally broad, we suggest to focus initially on:
Digitalisation of Manufacturing and processing (incl. AI, Machine Learning, Robotics, Industry 4.0. etc.)
Digital Technologies (incl. IoT, 5G, HPC, Big Data, Quantum and Photonics)
Skills (Human Capital, lifelong learning, etc)
Greening
"I want the European Green Deal to become Europe's hallmark," said European Commission President-elect Ursula von der Leyen, as she tasked Frans Timmermans overseeing Europe's goal of achieving climate neutrality by mid-century.
Climate neutrality "is a long-term economic imperative," she stressed, saying "those who act first and fastest will be the ones who grasp the opportunities from the ecological transition."
Greening our economy and our lives is a key policy issue for several years and has a large public and popular interest. It touches many aspects and all industries, and the choices to be made are complex, require large investments, and are strongly multi-disciplinary. The common ground between different stakeholders and sectors is often difficult to find.
The purpose of this working group is to find and prioritise key themes or issues from the stakeholder perspective, especially those that are cross cutting and where policy can make the biggest difference. The second step is to formulate recommendations within these priorities to MEP's and the Commission. These recommendations should be actionable and not merely a wish list.
Given the broadness of the two themes, participants of this working group will discuss where to put the focus to start with in the areas of Climate neutrality and Circular Economy.
Implementing Horizon Europe
Horizon Europe is to be the largest, most comprehensive and complex R&I programme of its kind globally. It is also highly Innovative, exploring new Instruments and policies to better address the needs of the stakeholders and citizens, create more (measurable) Impact and better communicate at large. It also aims to better coordinate and streamline between different governance levels and stakeholder types.
The concepts and Ideas behind the programme are generally deemed sound, the devil Is however In the Implementation. The Implementation requires commitment and coordination between different silo's in and outside the Commission, and not In the least across disciplines and sectors.
This working group aims at identifying and prioritising key Implementation aspects from the different stakeholder perspectives, what Is relevant, how to achieve effective collaboration and communication, and not least what can we learn from implementation and operation of current Instruments and mechanisms, to build upon, ensure continuity and increase impact.
The second part of the work Is to produce recommendations within these priorities, including performance Indicators, monitoring, stakeholder engagement etc.
Regulation of emerging technologies e.g. Artificial Intelligence
Regulation is not always perceived as the most Interesting topic for debate and discussion. It is however a key driver or barrier for innovation, good regulation can make or brake Innovation and take up, it can also provide competitive advantage, whereas lacking or inappropriate regulation can stifle Innovation, put Europe in a disadvantaged position and force key players to move to other regions.
In particular with current technology developments (such as AI, but certainly not limited to It, many other technologies and domains are equally affected), that prompt real paradigm shifts in the way we accompany them with regulation, the complexity of regulatory frameworks that are needed to create a favourable environment, Is increasing significantly. It Is not a single topic or regulation, but a series of existing and not yet existing regulations that together determine how successful the Innovation or breakthrough technology can be or not be.
Especially within the K4I Forum as a platform with political members, MEPs, and its diverse groups of stakeholders, regulation is a key topic.
The propose of the working group Is to first Identify key regulatory issues from the stakeholder perspective, that are cross cutting and can be exemplified, and subsequently to formulate recommendations.
From lab to market
This topic is of key relevance to our society and economy. For many years the so called 'innovation paradox' has been high on the agenda, and still today the EU is lagging behind its competitors when it comes to bringing research results to the market and create new markets. The efforts made in the last decade have improved certain elements, especially in the field of start ups, but many steps still have to be taken. Capital investment, regulation to facilitate market introduction (sand boxing, green deals etc), knowledge infrastructures, better integration of different instruments to leverage synergetic effects etc still require major improvements.
Key topics to be addressed in this working group are:
Ensure continued (financial) support along the entire innovation value chain
Facilitate synergies with other instruments such as Innovation Fund, Digital Europe Funding Programme, Structural Funds etc.
Working Group Meetings 2019 | 2020
 Kickoff meeting launching Horizon Europe cross partnership working groups
5 December 2019 | 08:00 – 09:30 | European Parliament, Brussels
 First Working group meetings
21 January 2020 | 08:00 – 10:00 | European Parliament, Brussels
A press briefing on the Horizon Europe budget and a broad discussion on the initial working group themes 'Digital Transformation', 'Greening' and 'Innovation – from lab to market' at the 11th European Innovation Summit, 3 – 6 February 2020, EP, Brussels